Funny
Why Are Brown Men So Infatuated With White Women Onscreen?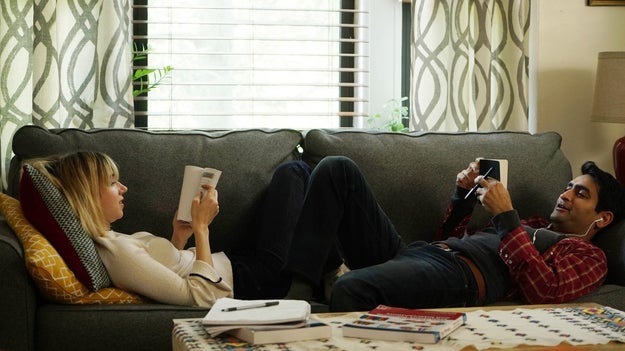 Zoe Kazan and Kumail Nanjiani in The Big Sick.
Courtesy Everett Collection / Lions Gate
There's a scene early on in the new romantic comedy The Big Sick, where the comedian Kumail Nanjiani (playing a version of himself) is sitting next to his girlfriend Emily (Zoe Kazan), talking about wine. During their conversation, which begins flirty and fun but soon turns emotional, Emily looks at Kumail and suddenly says, "I am overwhelmed by you." They've only been dating for a short while, so her admission comes as a bit of a surprise, but Kumail, looking into Emily's eyes, unable to repress a smile, replies that he is also "overwhelmed" by her.
It's the kind of sweet moment, heightened by the levity that surrounds it, that exists only in the best romantic comedies. But what makes it especially notable here is the fact that Kumail is a Pakistani-American man, and when the camera cuts to his face receiving and then expressing love, it upends what we're accustomed to seeing in most classic movie romances.
For that reason, among others, it does seem like a small miracle that Nanjiani's film, which he cowrote with his wife, Emily V. Gordon, and is based on their own lives, is finding its way to theaters this weekend (in limited release; it opens nationwide on July 14). Apparently, The Big Sick — which premiered at Sundance in January, was sold to Amazon Studios for $12 million, and has enjoyed an overwhelmingly positive critical reception — has found a formula for success in the still mostly white genre of romantic comedies. The movie's release feels like the culmination of a transformative few months for Hollywood representations of South Asian–American Muslims in love. Following the May debut of its second season on Netflix, Aziz Ansari's Master of None is the most talked about romantic comedy on TV right now. And The Daily Show's Hasan Minhaj, who hosted the White House Correspondents' Dinner  in April, released his own widely praised Netflix comedy special Homecoming King last month, which is itself a romantic comedy of sorts .
Yet, despite the significance of seeing Muslims represented onscreen in this way in 2017, it's interesting that at the center of both The Big Sick and Master of None remains the story of a straight man in pursuit of a straight woman, and more specifically, the story of a straight man in pursuit of a straight white woman. Minhaj's Homecoming King special treads similar territory, as he spends a good deal of time relaying how his desire for a white girl in high school didn't live up to the romantic expectations in his head (alongside the story of his marriage to his wife, who is Indian). All three comedians are adept at talking about race and their experience of being raised Muslim in this country, and can't necessarily be expected to represent experiences — or desires — besides their own. But nevertheless, they do all end up appealing to a certain, familiar fantasy of manhood. And this fantasy doesn't have much room for South Asian women. Their choices are reflective of the stubborn limitations of an industry where straight men still dominate, and where whiteness remains an integral component to what love looks like onscreen.
In a recent New York Times profile of Nanjiani, producer Judd Apatow explains that The Big Sick "had to be the perfect script to try to get funding." Though it's directed by comedy scene veteran Michael Showalter, Apatow suggests that because the romantic comedy focuses on the experiences of an immigrant Muslim comedian in love, it breaks certain rules of the genre and was therefore a harder sell. Namely, like only a few Apatow-produced films before it (Bridesmaids, Trainwreck) — The Big Sick doesn't center around a white guy.
Meanwhile, in his own New York Times profile published earlier this month, Aziz Ansari tells the interviewer, "When you think of the star of a movie or TV show, you don't think of someone that looks like me." And indeed, for nearly a century, Asian men in Hollywood have been primarily depicted as the antithesis of the ideal man — as meek and strange, almost never attractive and sexy. Muslim men are rarely seen onscreen at all, unless they're praying in some ominous montage and/or terrorizing someone in an action film. And so, at a time when people with names like Nanjiani are being openly demonized and attacked, it means something that millions of Americans  are being asked to see these men as people who love, and who are loved — and that South Asian American Muslims can see themselves depicted in this way as well.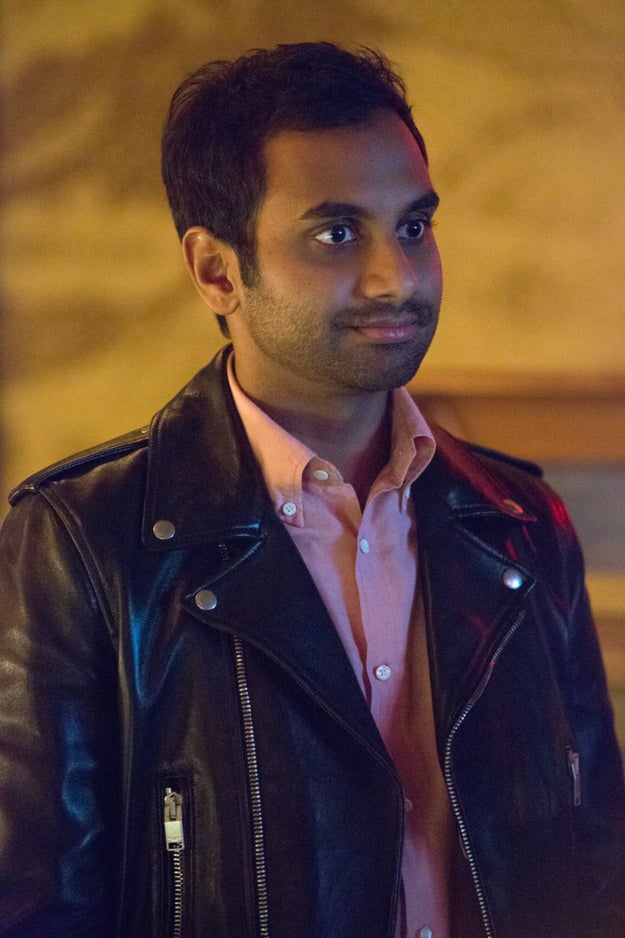 Aziz Ansari in Master of None.
Netflix / Everett Collection
But, as Apatow alludes to, there are some very familiar things about these scripts. On this point, Ansari's full quote in the New York Times is illuminating:
"When you think of the star of a movie or TV show, you don't think of someone that looks like me or someone that looks like Woody Allen or someone that looks like Seth Rogen."
Though it's true that Woody Allen looks a lot different from Clark Gable or Brad Pitt, 40 years after Annie Hall it's actually become pretty commonplace to see "quirky" straight white men like him as romantic heroes. Allen — despite his daughter's public allegations of sexual abuse — is still making Oscar-nominated movies about those types of characters, and his influence is all over hit shows like Curb Your Enthusiasm and Louie. You can also see it across Apatow's oeuvre, in films like Knocked Up. Apatow even produces a Netflix show that centers on an awkward, bespectacled white comedian named Paul Rust — and it's simply called Love.
There's a notion that comedies  like Allen's —  which Ansari praises for being "driven by point of view" rather than appearance  —  opened doors for unconventionally attractive men to step into the romantic lead (such as Rogen). But the vast majority of romantic comedies are still about white people, and most are still made by white men. It's a new phenomenon to see "unconventional" stretch far enough to encompass other skin colors. And that expansion hasn't guaranteed that the "point of view" of these projects, or the influences they're drawing from, are quite as varied or groundbreaking as one might hope.
Certainly the reality of having men of color in the writers room, and the inclusion of the perspectives of women, makes a project like Master of None or The Big Sick different from Midnight in Paris (not to mention the fact that neither Ansari nor Nanjiani have ever been accused of abuse). And Ansari, Nanjiani, and Minhaj are able to follow in the footsteps of black men like Chris Rock, who mentors Ansari and is cited by Minhaj as a hero, as well as South Asian folks like Russell Peters and Mindy Kaling. Those influences and writers make a difference. Take for instance, Master of None's "Thanksgiving," directed by Melina Matsoukas and co-written by Lena Waithe about her experiences coming out to her family as a queer black woman. A storyline like that, which veers almost entirely away from the traditional romantic comedy script and doesn't feature any white people at all, is probably never going to happen on Love.
At the center of both The Big Sick and Master of None remains the story of a straight man in pursuit of a straight white woman.
And while the episode feels revelatory, unfortunately, the new season of Master of None doesn't maintain that kind of freshness all the way through.
Ansari, whose star rose by playing silly but slightly misogynist men in projects like Funny People and Parks and Recreation, begins the second season of his show with a black-and-white episode set in Italy called "The Thief," a play on Vittorio De Sica's Bicycle Thieves, and a 30-minute romantic comedy on its own. It features a dreamlike encounter between Ansari's Dev and a British woman named Sara, who is black (played by Clare-Hope Ashitey). They meet-cute at a restaurant, have a great day, and she gives him her number. Unfortunately, Dev's phone is stolen soon after, and he loses the chance to meet up with Sara again.
For part of the season, viewers might be hoping that Dev will serendipitously reconnect with Sara, à la Richard Linklater's Before Sunset, but alas, that fantasy never comes to be. Instead, Dev pursues an equally dreamlike romance with an Italian woman named Francesca, whom we also meet in that first episode. Francesca is not only white, but thin and conventionally beautiful, just like the women in the romantic movies Master of None admiringly references.
Although the show includes noticeably more women of color this season than in its first and explores storylines about sexual harassment in the workplace, the show's own camera looks at Francesca with a standard male gaze. In the episode "Amarsi Un Po," Francesca, who is engaged but may or may not be interested in Dev, gets stuck in his apartment due to a snowstorm and ends up dancing in the kitchen, wearing nothing but an oversize white dress shirt. She then spends the night in his bed. Ansari explained the choice in an interview with Vulture:
"I was just trying to make this hellish for Dev in every way possible. … I think everyone's experienced that agony, where you have this amazing night with someone but for whatever reason you don't know what's going on. That outfit was just tightening the screws on the guy."
The depiction of Francesca may be meant to torture Dev, but it's also the kind of framing of women that is de rigueur in hypermasculine cinema. And this objectification doesn't seem to be intended as a critique of those films, either. An episode later, after another dance in the kitchen, Dev and Francesca play-act a "first date" where they are both single and available, which ends with a kiss through a door — an intentional homage to Antonioni's L'Eclisse. Then suddenly Dev moves the door out of the way to kiss her for real, breaking their implied agreement to remain just friends. Francesca storms out, angry that he crossed a boundary, but the final shot of the series — with an ambiguity that once more recalls Before Sunset — suggests that Dev may have made the right move by taking charge of the situation.
Part of what's ambiguous about this final shot is the look on Francesca's face as she lies next to Dev: Perhaps it's not a happily-ever-after ending? Yet, as EJ Dickson writes at Bustle, there's also room to interpret this scene less favorably, as a justification for the behavior of "nice guys" who feel entitled to the affection of women.
Of course it may not have been the intent of Ansari and Master of None co-creator Alan Yang to depict the central relationship of the show as an ode to the persistence of men. But by following the lead of films made by and for straight white men, it's perhaps inevitable that Dev ends up in bed with his fantasy woman — who, of course, is white.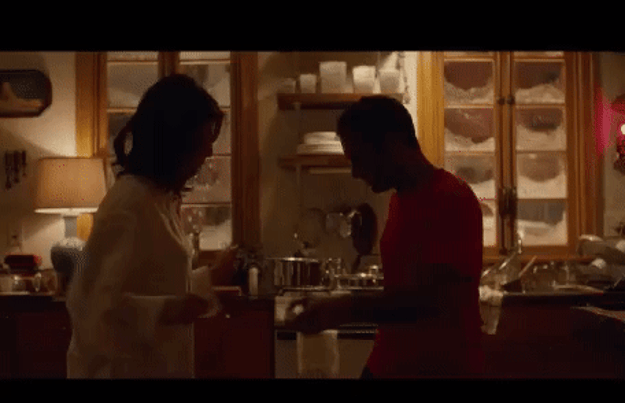 Dev and Francesca dancing in Master of None.
Netlfix
Kumail Nanjiani says that he started doing stand-up "because of Hugh Grant's best-man speech" in Four Weddings and a Funeral — and that as a young man, he dreamed of being Grant's character in that iconic romantic comedy written by Richard Curtis. In The Big Sick he finally gets his opportunity to fill Grant's shoes, and he proves that he's more than capable. While popular romantic comedies written by men like Curtis tend to reduce the complexity of women's lives to their romantic feelings, and/or present men as saviors, in Nanjiani's film Zoe Kazan (as Emily) and Holly Hunter (who plays her mother) are given some opportunities to be believably human. But the characters played by South Asian women in the script remain far less developed.
South Asian women become the symbolic root of Kumail's problems in the script, and white people appear to offer the solutions.
In a story based on his real life relationship with his wife and co-writer Emily Gordon, Nanjiani plays a stand-up comedian of the same name in Chicago who is developing a one-man show based on his experience as a South Asian Muslim in America, kind of like Minhaj's Homecoming King (though unlike Minhaj, Nanjiani isn't a first-generation Indian American, but emigrated from Pakistan as a teenager). The main plot revolves around Kumail's relationship with Emily, who abruptly falls ill a few days after breaking up with him. Kumail is called to the hospital, since he's her closest available contact, and when he arrives she is quickly put into a medically induced coma. The drama unfolds from there.
In the movie, Kumail has to hide his relationship with Emily from his Pakistani Muslim parents, while simultaneously participating in the cultural tradition of arranged marriages (which are actually more like arranged dates). There are a number of funny scenes at the dinner table with prospective wives, trying their best to impress Kumail and his family. But though the film offers some of these Pakistani women empathy, including a character named Khadija whom we see Kumail reject, it mostly portrays them as undesirably traditional  —  especially in comparison to Emily. There's never really any possibility that Kumail might end up with any of them (after all, there are no brown actresses who get top billing on the poster), and even when he and Emily are on a break, we see him hook up with another white woman.
Nicole Rivelli / ©Lions Gate/courtesy Everett Collecti / Everett Collection
In some ways, South Asian women become the symbolic root of Kumail's problems in the script, and white people appear to offer the solutions. The fact that his mother, Sharmeen (Zenobia Shroff), continues to arrange dates with Pakistani women, and these women give him photos that he hides in his room, ultimately leads to his breakup with Emily. While Emily is in the hospital, unable to communicate, Kumail spends his time learning life lessons from her white parents, especially her mom (Hunter). And later, after Emily emerges from her coma, he actually burns the collected photos of Pakistani women he's received and presents their ashes to Emily as a kind of apology. It's clearly meant to be funny, but it's also hard not to notice the metaphoric reduction — to literal ash! — of South Asian women's lives and personhood in Kumail's pursuit of a white woman.
No doubt the reality of brown people dating white people in America is a worthy topic to explore, particularly if one of them happens to also be Muslim. And both Nanjiani and Ansari are drawing from their own real-life experiences in their writing, experiences that deserve to be respected and celebrated in this country. But it is also true that these stories fit into a larger societal narrative of white women as the primary objects of patriarchal desire. So even though, as Gordon has said, she and Nanjiani set out to write "a little, lovely love story … that has cultural stuff," it's not surprising that the film might implicitly reinforce the status quo. It's also not surprising that these particular projects about South Asian Muslims — highlighting the beauty of white women, and the appeal of quirky straight men — are the ones that have gotten the most funding and attention in Hollywood. In 2017, there remains a narrow path to acceptance in American mainstream media.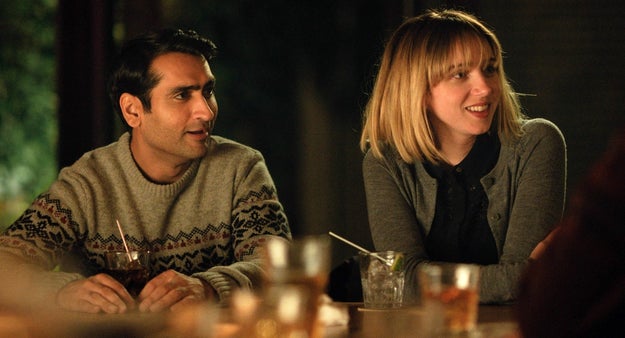 Sarah Shatz / Lions Gate/ Everett Collection