Funny
This Guy's Shopping List Hack Was So Perfect He Had To Be Complimented On It
"The stuff about balsamic vinegar proves you have good taste".
According to the screenshots, he was using DMs to Iglesias to write a shopping list. Whilst doing so, Iglesias replied, telling him balsamic vinegar shows he has good taste.
@comunistx / Via Twitter: @comunistx
When @comunistx replied that he didn't like normal vinegar, Iglesias then recommended cream of balsamic vinegar, and then Himalayan salt. The Twitter user told BuzzFeed Spain that they were able to DM the party leader because Iglesias had previously sent messages to his followers informing on his campaign.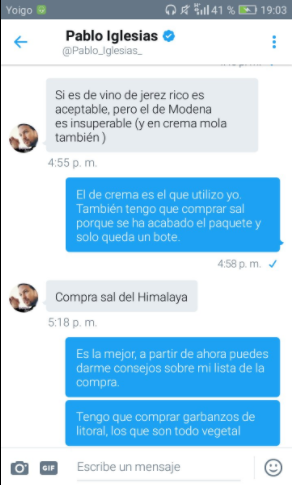 @comunistx / Via Twitter: @comunistx
"Yesterday I was bored, so I decided to tell him that from then on my conversation with him would be my shopping list. I found it terribly amusing. Then he started to answer me, and I tweeted both screen captures in the afternoon. It was really funny," he said.
---